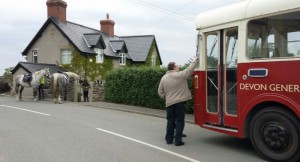 We don't know which is the more genuine mode of Victorian transport the horses or this beautifully restored Devon General Bus which was on a visit to the Victorian Extravaganza in Llandudno over the Bank Holiday weekend.
After a tiring day exhibiting the bus arrived at the White Lion with its guests for dinner.
The bus had come up from Weymouth for the show and caused lots of interest whilst parked outside the pub; here's Johnny inspecting the windscreen wipers.
We hope they had an uneventful journey back to Weymouth and look forward to hopefully seeing them again next year.