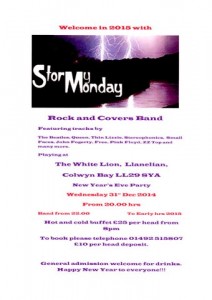 This New Year's Eve we are please to be offering a £25 Hot & Cold Buffet  from 8.00p.m.
As we will be very busy and in order not to disappoint other customers we are requesting a non refundable £10 deposit at the time of booking.
Included for for your entertainment, North Wales band Stormy Monday will be performing from 10.00p.m. They are a well known Blues, Rock & Covers Band blues who also write some of their own material.
Covers include music from Cream, Free, BB King, Clapton, Santana, Floyd, Deep Purple, Black Sabbath, ZZ Top  etc. They will be playing from 10.00p.m. We look forward to welcoming you to a great night's celebration with Crackers, Party Hats and Party Poppers all included.
General admission welcome for drinks and a Happy New Year to everyone in case we don't see you on the night.