Historic Pub
The historic White Lion Inn stands on the crossroads of the hamlet of Llanelian yn Rhos, just above Old Colwyn, Conwy.
Little has changed since Edward Lhwyd in 1699 wrote "There are by ye church but four or five houses"; the houses though have now multiplied to eighteen.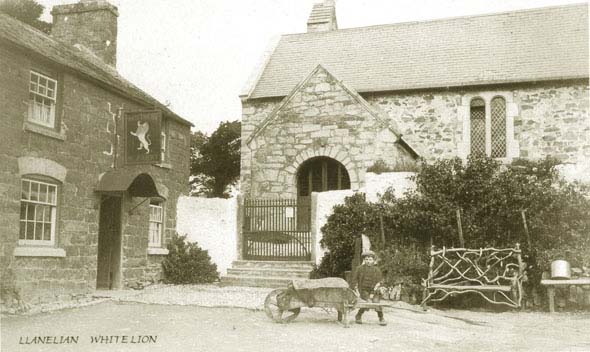 Next to the church gate is the public house, The White Lion Inn, which displays on the swinging inn sign above the door the rampant white lion of the Holland's of Teyrdan. Humphrey Holland, squire of the estate, was entombed in the church grounds according to the worn epitaph on the tomb that proclaims he departed this life in 1612.
Llanelian is well known for the cursing well of St. Elian. In years gone by, for a small fee, a curse could be registered with a person's name etched on a stone, which was then dropped into the well. The activity of cursing seemed to have disappeared in 1829 when the vicar of St. Elian directed the well to be filled in.
In a well documented history book the dating of the first church on the site was 540AD, and ancient annals suggested that the Elders of the church in the year 722AD retired to the ale house next door for their free monthly ale.
If this was indeed the site of the original church of St. Elian, it is fair to assume that ale has been served from this site since the 8th century. Parts of the present building date back to the late 14th or early 15th century.
Many interesting features have been restored by the present owners, such as the original Welsh slate floor in the bar and the beamed roofing structure of the old barn – now a smoke-free eating area. There is also a cosy inglenook fireplace with leather Chesterfields to relax by.
Since the White Lion was purchased by the Cole family in 1989 they have restored and preserved many aspects of traditional Welsh village life, such as reinstating the snug next to the bar and offering liquid sustenance to visiting clergy after their service on Sunday.
Award winning food, local beers, live music and a warm welcome
To book a table for dining, a birthday celebration or a space for a private event call us on 01492 515807.