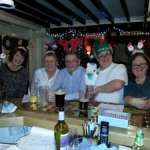 Well done everyone last night with your donations to St David's Hospice.
So far we have raised over £500 with some more money to come in.
Thank you to the Quiz winners for also donating their winnings to the charity.
The Vice Chair of the Charity was in the pub on her first ever visit last night and was very impressed with all our enthusiasm and thanks you all for your efforts.
Additionally we must also praise our Brass Band, including Guest Star Simon, for their leadership of our choral offerings.